Come show your support for the Rebel volleyball team as they take on NGS Imperials for the last regular season game! Stop by the '26 Soda Mix stand to support the class of 2026 as they work to earn money for a class trip.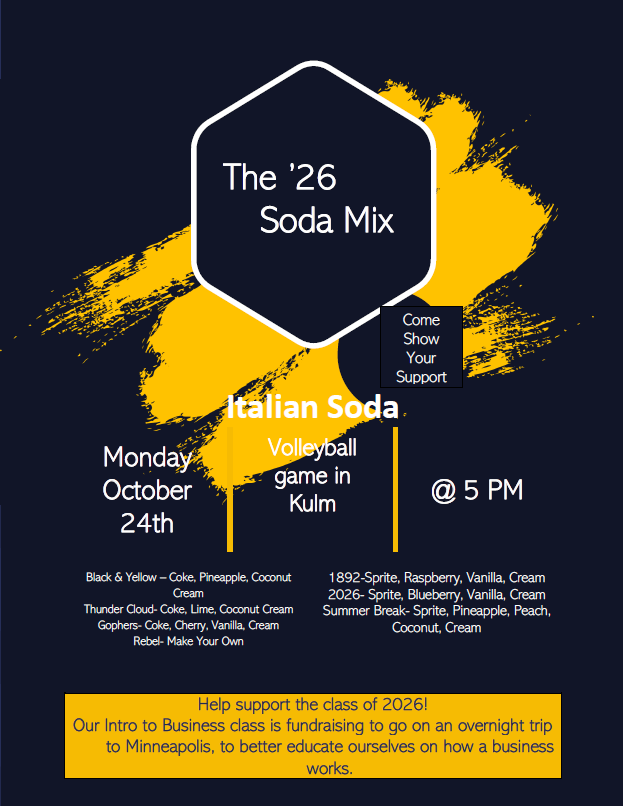 District 5 Volleyball Tournament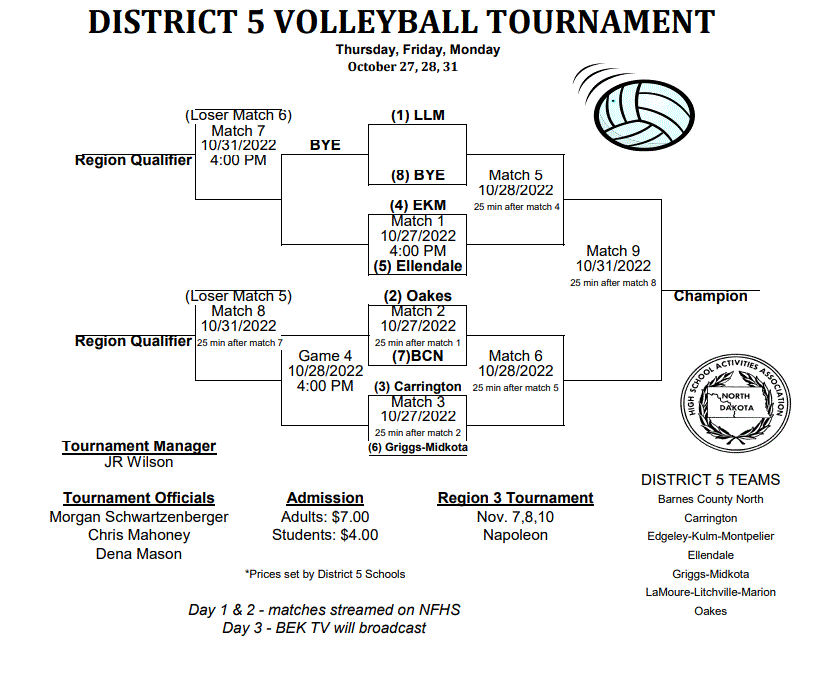 Oct. 21 Cross Country State Tournament takes place @ Jamestown Bus leaves Kulm @ 11:30am
Book Blast Launching Next Week for Preschool through 6th Grade! Our voyage starts next week when we'll cast off in search of Book Blast treasure. Once you receive your Treasure Map next week, the treasure hunt begins! Be sure to complete it for a chance to win one of 4 Treasure Chests stuffed with cash and even an Apple iPad! But even better, you'll be starting the journey to earning all 10 books on the Treasure Map book list. Heave ho, let's go readers!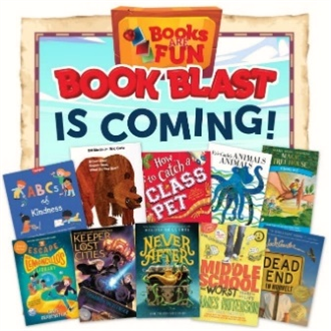 The County Health Nurse will be back at the school on October 24 in the afternoon to give influenza vaccines to students or staff who may have missed them the first time. Extra forms are in the office.
Picture Retakes will be the morning of November 4, 2022. Please let the office know if you would like your students to have retakes.

The KHS music program put on a wonderful variety show on Monday, October 17th. If you didn't make it to the show, you can still see it. Click on the link to watch the performance.
https://youtu.be/twkPr8ZzcKo
Oct. 18 Elementary BBB will play at Ellendale with a 4:30 tip-off. Volleyball also plays in Ellendale with the C squad match starting at 5:00 and JV then V to follow. Bus leaves Kulm at 3:00. Good Luck Rebels!
22/23 JHGBB Season information was sent home. Good Luck Rebels!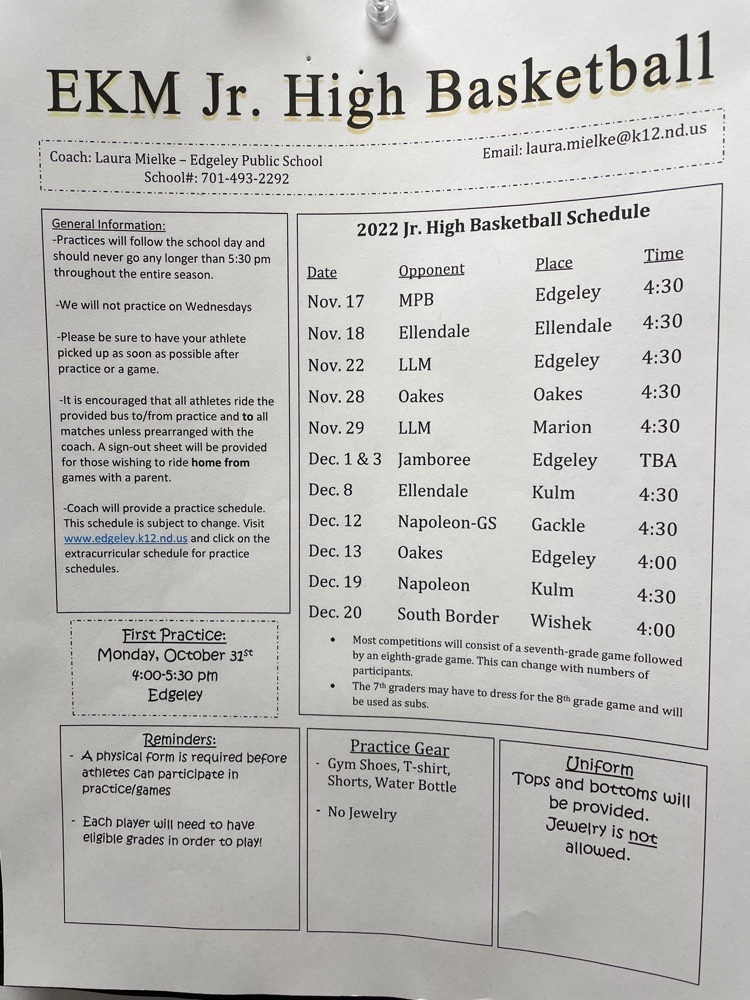 Upcoming Winter Sports Seasons: 1st JHGBB practice is Oct. 31 1st Wrestling practice in Nov. 7 1st (9-12) GBB practice is Nov. 14 1st (9-12) BBB practice is Nov. 28 1st JHBBB practice is Dec. 19
Oct. 17 Elementary Basketball takes on LLM in Edgeley at 4:30. Bus leaves Kulm at 3:30. At 7:30pm there will be a Variety Show in the Kulm Commons for grades (7-12) come out and see our students showing off their talents.
Oct. 14 EEK Varsity football plays in Kindred at 7:00pm. Bus leaves at 2:45pm. Go Thunder!
Oct. 13 Volleyball heads to Strasburg with C starting at 5:00 and JV then V to follow. Bus leaves Kulm at 2:45pm. Good Luck Rebels!
Family Night of Fun!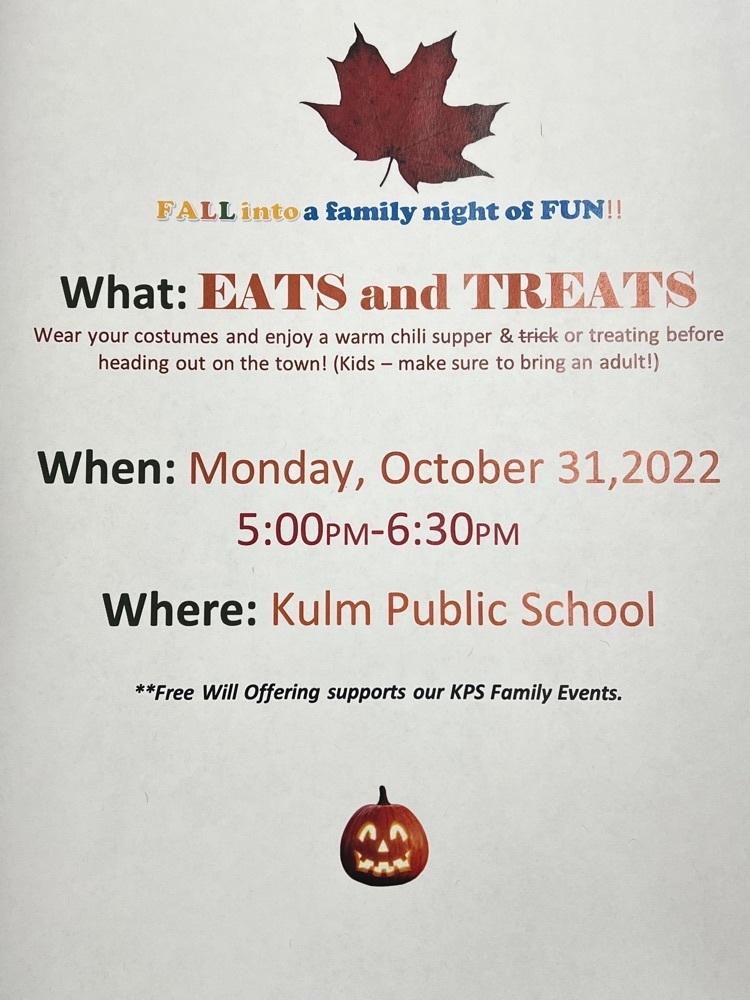 Oct. 11 Volleyball is at BCN. The JH is playing first at 4:30. They will be followed by JV and then Varsity. Bus leaves Kulm at 2:00. Good Luck Lady Rebels!
SOS: Support Our Students! Kulm newspaper and yearbook students are attending a high school journalism convention on Monday, October 17 at South Dakota State University! Workshops on community journalism, sports journalism, yearbook trends, and smart, concise writing will be presented by journalists and communications experts from media outlets throughout the Dakotas. This is the first year KPS has had a student newspaper in many many decades (maybe ever?), and our staff is already creating awesome content about local events and issues. Check out their first edition here:
https://www.kulmschool.com/page/school-newsletters
In future years, we plan to fund our convention trip through advertising sales, but this year, our first, we could really use help from community members and alumni who would like to encourage more local reporting. Please donate and make this trip a reality for the 10 students planning to attend the convention next week. Contact Sarah Gackle directly at
sarah.gackle@k12.nd.us
or 651-262-3577 to donate today!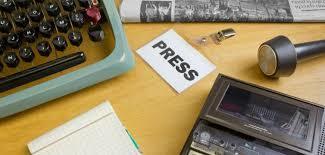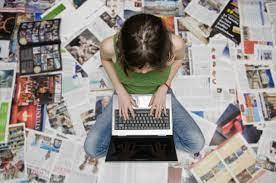 Oct. 8 JH Volleyball will hit the nets in Wishek for a JH Jamboree starting at 8:30am. Pick up in Kulm will be at 7:10. Elementary Volleyball will hit the nets in Ellendale for a Jamboree starting at 9:00. Bus leaves Kulm at 7:30. Good Luck Lady Rebels!
Our first Coffee with Kids event was a success! Thank you to all the parents, grandparents, and community members who attended! Keep your eyes out for our next Coffee with Kids event!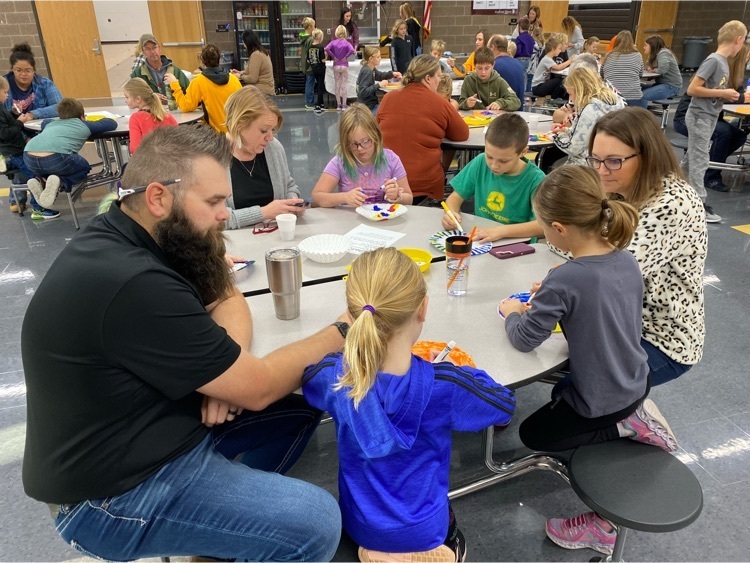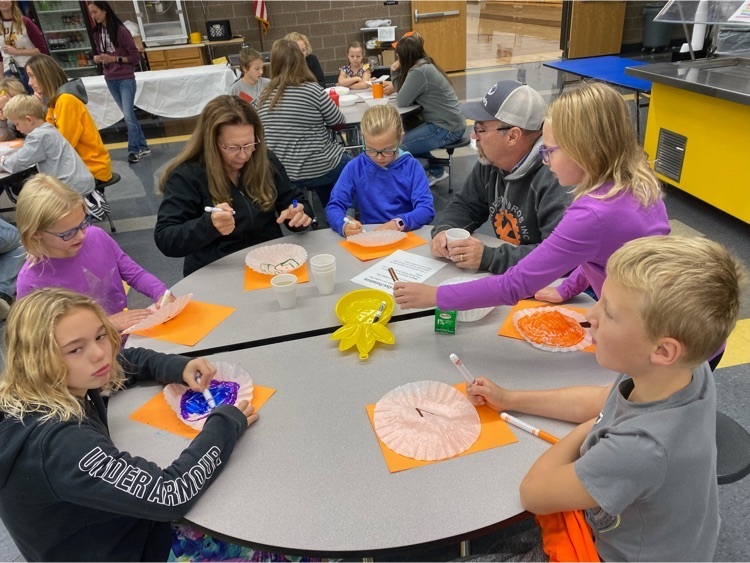 Elementary Volleyball Jamboree Schedule. Kulm bus will leave at 7:30am for Ellendale. Good Luck Rebels!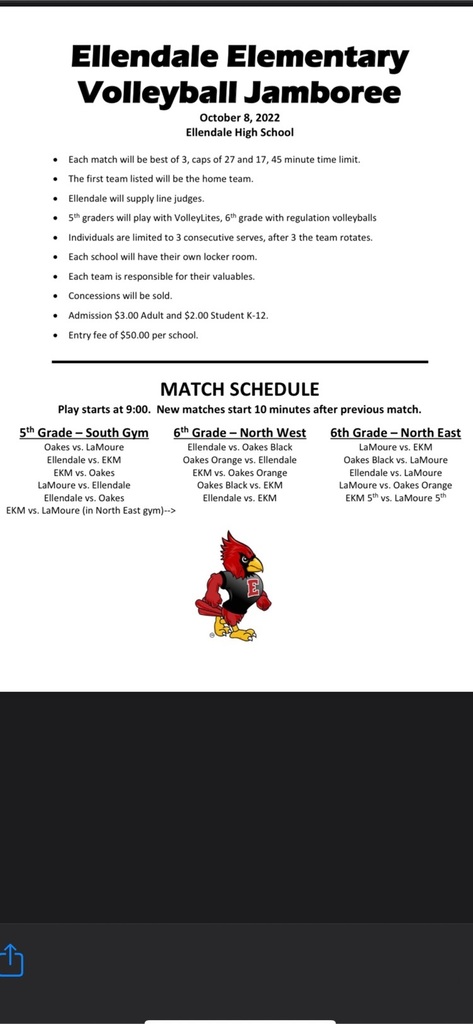 Oct. 7 EEK Thunder Football heads to Central Cass for a 7:00 kickoff. Bus leaves Kulm @ 3:00. Good Luck Thunder!